Replay Media Catcher 5
Download and Capture HTTP and RTMP music, radio and video streaming from Adobe Flash Player. Download Windows Media, Real Media, Smooth Streaming audio and video.
Replay Media Catcher 5 Editor's choice! (Shareware - $49.95/Windows) - a stream downloader and stream capture software. It allows you to download radio, music and videos streams from Adobe Flash Player, Windows Media Player, Real Player and Silverlight player. It can also capture HTTP and RTMP streams, which allows you to stay undetected, since Replay Media Catcher captures data from your local computer. Replay Media catcher 5 support HTTP, RTMP, MMS and RTSP protocols.
Replay Media catcher is incredibly EASY to use:
Open Replay Media Catcher and click Start Monitoring
Play your video or audio stream
All video, music and radio streams will be downloaded/capture automatically.
After recording, Replay Media Catcher tags MP3 files automatically. It can also rename your audio and video files automatically using several naming methods.
You can also convert your recordings into the most popular formats (to play on a PC, iPod, iPhone, xbox, PS3, Samsung Galaxy, Droid, etc,...).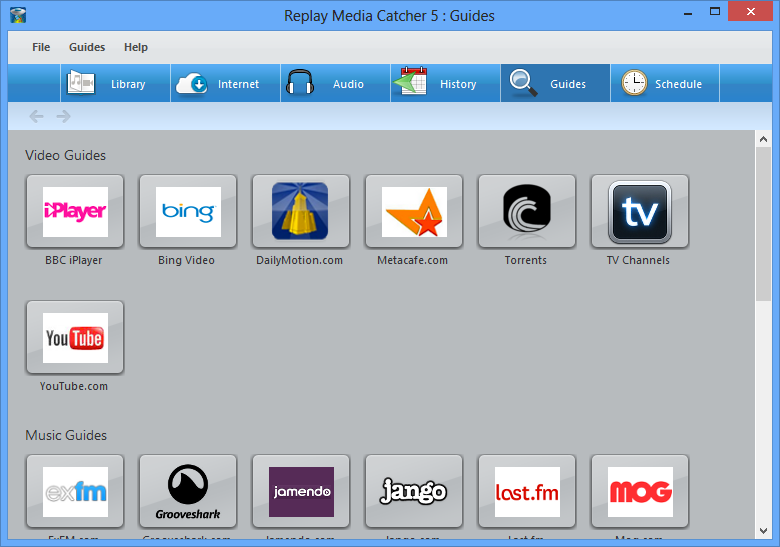 Download Replay Media Catcher. It is free to try.
EASY to use: Just click "Start Recording", then play your media, and an exact digital copy is downloaded to your hard disk. Just like that.
POWERFUL: Replay Media Catcher supports more streaming protocols than any other stream downloading software. And it automatically converts files to over 100 popular output formats.
FUN: Extra goodies like Music and Video Search, an Audio Recorder, and a Scheduler make finding and recording video and audio more fun than ever.
SMART: Replay Media Catcher automatically names video files, and recognizes millions of songs so that it can identify and tag recorded MP3 music files. Amazing!
Requirements:
Price: $49.95 (30 day unconditional money back guarantee).
Tutorials: How to Record/capture/save/download .FLV video streaming and .MP3 audio streams with Replay Media Catcher
Links
Download Replay Media Catcher. It is free to try.
Buy Replay Media Catcher at Applian for $49.95
Buy Replay Capture Suite (including Replay Media Catcher) at Applian for $79.00 and save more than 50%!!!
Applian Technologies Secure Ordering - 100% Secure Purchase
The order process is protected through a secure connection. Your personal data is encrypted and cannot be accessed by a third party. We do not record your credit card information.
Orders are processed by Authorize.net
NEWS: Replay Media Catcher 6 is now available. Downloads from more sites than ever!
---